Thank Your Special Veteran
Our talented Seacrest Students will be on the stage in the courtyard entertaining us with song, dance, perhaps even a little comedy or poetry.
Bring a blanket and come enjoy performances from our talented students.

Friday | November 4 | 4 p.m.
Seacrest Courtyard
Sponsored by the Seacrest Arts Department and Boosters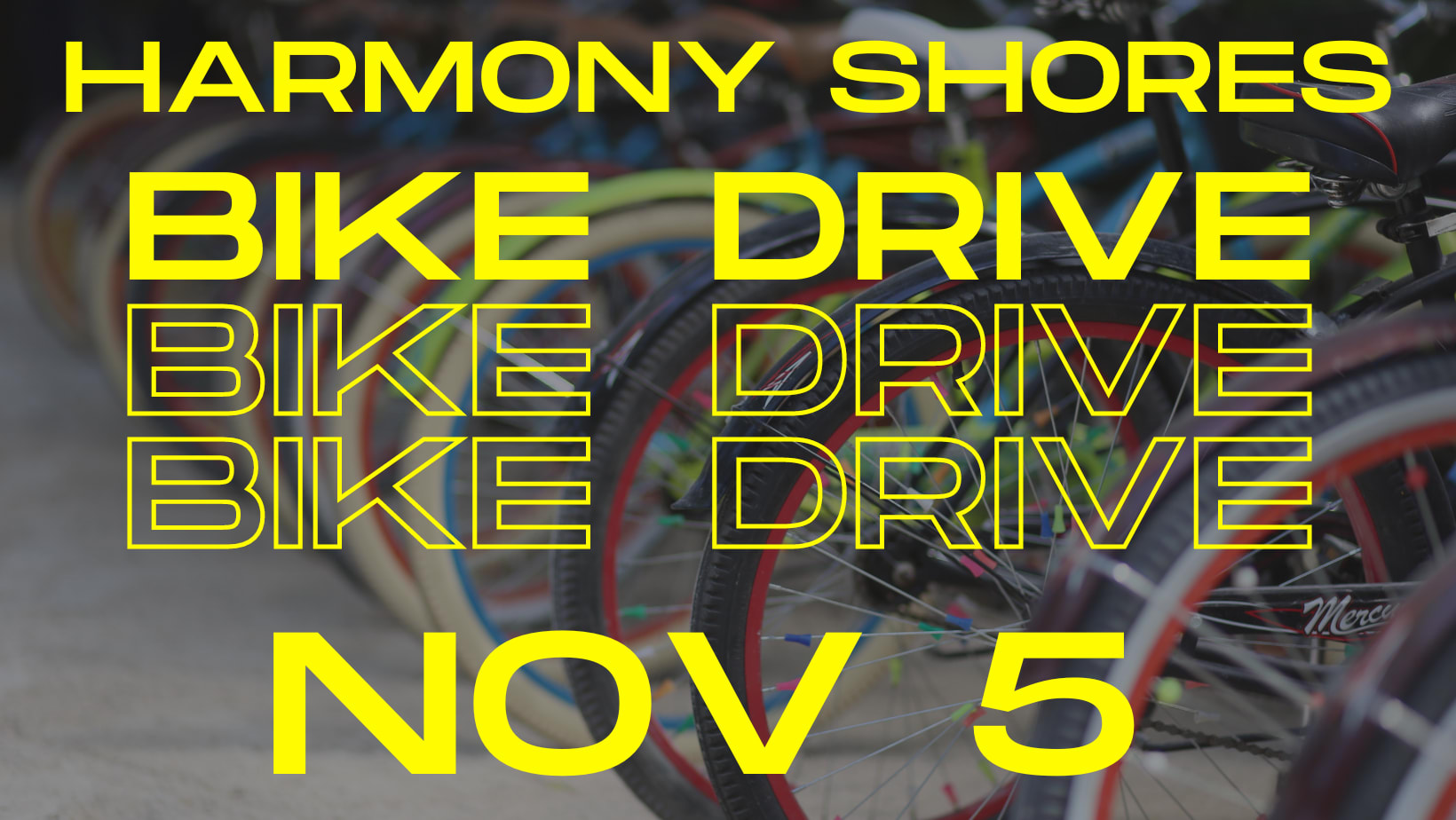 Five nonprofits in town are coming together to collect bikes for the hard-hit East Naples communities of Harmony Shores and Palm Lakes. These hard-working communities lost most of their means of transportation including bikes and vehicles. Bikes will help get these folks back to work and school with less hassle. Seacrest is partnering with Bikes for Tykes, Community School of Naples, Naples Pathways Coalition, and Naples Velo.

You can drop off gently used bikes, helmets, locks, and bike lights on November 5 at the Upper School parking lot. If you are coming to campus on November 4 for Friday Fling or Volleyball, you can drop the bikes off under the canvas.

Volunteer to Help on Nov. 5

Donate Money towards New Bikes

More Information
Shop Extended until Sunday
Last Chance for Core Values Shirts
We are excited to offer our Core Values shirt design on many new garment styles. You can shop online through Oct. 31. Shirts will be delivered to Seacrest before Thanksgiving break. At check out choose "I will Pick Up My Order" to save shipping costs and pick up at school. Or choose, Please Ship My order to have it shipped to your home. Remember that orders will not be printed until the shop closes on Oct. 31 with either shipping choice.
$5 from every shirt sold comes back to Seacrest and will be put toward Parent Coffee Gatherings that our parent organizations will hold after Flag Ceremony each week.
🧦 Laces of Love Sock Drive
Drop off New Socks to the Front Office Now
Laces of Love donates thousands of pairs of shoes to children in Southwest Florida. During Hurricane Ian we've found that while clothes can often be washed up after storm surge, shoes often can't be saved. There is a large need for shoes and new pairs of socks.
Our 8th graders have launched a sock drive to support Laces of Love so that with every pair of shoes, a child also receives new socks.
Please send in new socks of any size (Toddler through Teen). Drop off in the Pink Box in the Front Office.
More Information:
Lace of Love
Trivia night has been rescheduled for November 5 at 5:30 p.m. This night of fun raises funds for our athletics department and athletes. The event was cancelled the weekend after Hurricane Ian. We have decided to reschedule the event for November 5 to gather, have some laughs, and raise funds for our fabulous athletes. If you would like to join us, tickets are still available, along with childcare.
Food Drive Competition Ends Friday!
Our Student Government continues to run our canned food drive. Remember the homeroom in lower school and advisory in the middle school who brings in the most cans receives a free dress day! The Contest ends November 4.
Help us support St. Matthew's house in this especially hard-hit year. St. Matthews and Free Dress Contest ends November 4. Extra food collected through Nov 11 will be given to a second food pantry.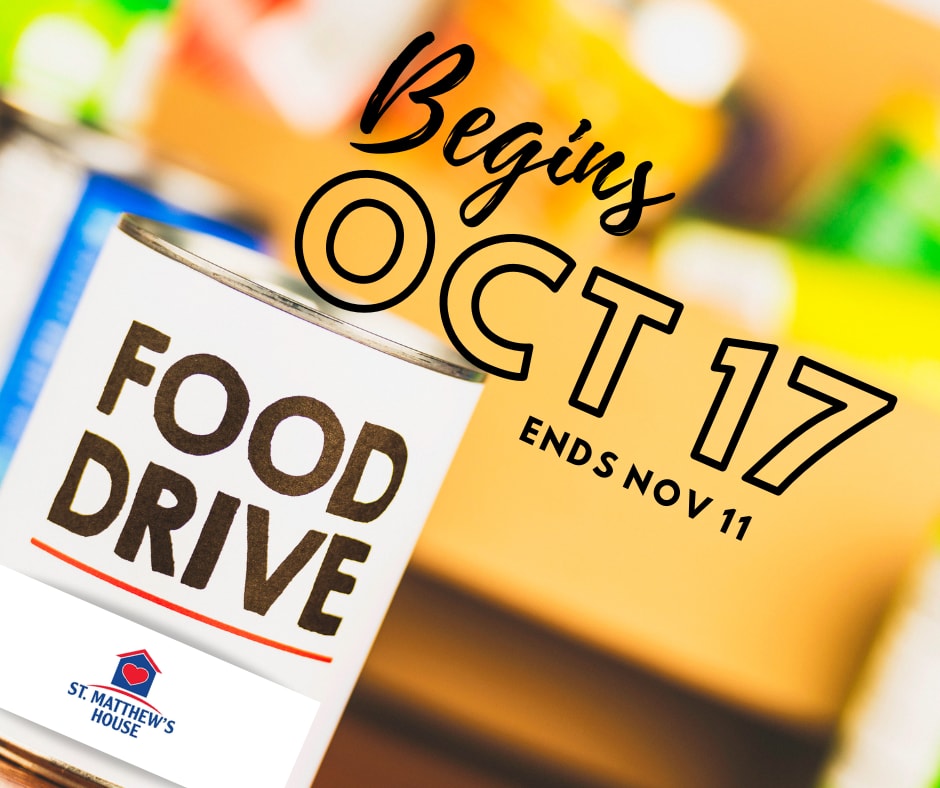 Top canned items to give:
FRUITS & VEGETABLES • No sodium canned vegetables, including tomatoes • Reduced sodium (and low sugar if available), shelf-stable tomato/vegetable pasta sauce • Canned fruit in 100% juice and shelf-stable fruit cups—no artificial sweeteners • Unsweetened applesauce cups • Dried fruits, vegetables with no added sugar or salt 100%
WHOLE GRAINS • Unflavored oatmeal, cream of wheat, or rolled oats • Whole-grain cereal with fiber (3+ grams) & low in sugar (3g or less) • Whole-grain or 100% wheat or brown rice crackers • Whole wheat, high fiber, or multigrain pasta • Brown or wild rice, whole wheat couscous, & barley • Whole-grain rice cakes, granola or cereal bars low in fat
PROTEIN • Canned chicken, tuna, or salmon in water • Canned, reduced sodium and reduced fat, bean, chicken, or vegetable soup • Dried beans, peas, or lentils • No sodium or low sodium beans (such as black, kidney, cannellini), black-eyed or chick peas • Peanut butter • Quinoa • Unsalted or low salt nuts and seeds (such as almonds, walnuts, cashews, peanuts, sunflower)
OTHER • No sodium or low sodium chicken or vegetable broth • Virgin and extra virgin olive, canola, or sesame oil • Shelf-stable and low fat, vitamin D-fortified regular, soy, almond, or rice milk • Boxed, unflavored low fat regular, dehydrated milk, or canned evaporated milk
Items to avoid: Food in glass jars. × Expired cans and boxed food items. × Damaged, already opened food items. × Rusty or unmarked cans of food. × Homemade food items. × Soda and sweetened drinks × Sweets: cookies, cakes, candy. × Ramen noodles × Any food you would NOT eat or feed your family.
November - 2022
November 3, 2022
Seacrest Food Drive
All day
November 4, 2022
MS Birthday Breakfast
All day
November 4, 2022
Seacrest Food Drive
All day
November 4, 2022
Lower School Flag Ceremony: 4th Grade Presenting
8:20 AM - 8:45 AM
Seacrest Courtyard
November 4, 2022
Annual Gala Volunteer Meeting
8:45 AM - 9:45 AM
Arts Center
November 4, 2022
Friday Fling
4:00 PM - 5:30 PM
Courtyard
November 5, 2022
Seacrest Food Drive
All day
November 5, 2022
FANatics Trivia Night
5:30 PM - 9:30 PM
Stingray Center
November 6, 2022
Seacrest Food Drive
All day
November 7, 2022
Seacrest Food Drive
All day
November 8, 2022
Seacrest Food Drive
All day
November 8, 2022
Seacrest Senior Photos
7:30 AM - 1:00 PM
Arts Center, Lower School-1-Arts Center (100)
November 9, 2022
Seacrest Food Drive
All day
November 9, 2022
8th Grade/ Upper School Trip Meeting for Interested Parents & Students to England/France/Spain
6:30 PM - 7:30 PM
US Common Room
November 10, 2022
Seacrest Food Drive
All day
November 11, 2022
Seacrest Food Drive
All day
November 11, 2022
Veterans Day All School Flag Ceremony: US Presenting/Band/Chorus presenting
8:20 AM - 8:45 AM
Courtyard
November 16, 2022
Seacrest Coffee Cart
8:00 AM - 8:30 AM
Drop off items in front office or carline
November 16, 2022
Junior Class College Counseling Meeting
6:00 PM - 7:00 PM
7100 Davis Boulevard • Naples, FL • 34104
239.793.1986 • www.seacrest.org
©2019-2020 Seacrest Country Day School